Chapter 5 - Glimpses of History
The following extracts have been chosen to give an impression of life in the Towford area in historical times. Most of the extracts refer to Hownam Parish due to limitations of space. The main sources are the First and Second Statistical Accounts and an Agricultural Survey of Roxburghshire, all of which contain a wealth of information for further study.
Origins of the Parish
The parish name has appeared in various forms in the course of history, including Hunum, Hunedene, Hounham, Howenham, Hounam and Hownam. Its origin is obscure though various derivations have been suggested, e.g. Hund-Ham - Hound village, from Old English. This derivation accords well with local pronunciation of the word 'hound' (hoond) and the parish name, pronounced Hoonam. The name was in use as early as the 12th Century as shown by the following extract.
Church and Land
About 1199, William, called De Laundeles, a son of John of Hunum, was in possession of the lands. About the same time, William built a chapel at Rasawe in honour of St. Mary, and gifted the lands at Rasawe, in pure and perpetual alms to the monks of Melrose, on condition of their maintaining a chaplain to celebrate masses at the chapel. (Jeffrey) This is a local example of a general practice of the time, known as Appropriation, the setting apart of a benefice to the perpetual use of a spiritual corporation.
The church was in possession of the monks of Jedburgh in 1220 though there appears to have been continuing dispute between the Abbeys of Melrose and Jedburgh over the church and various grants of land.
Anselm of Whitton gave to the monks of Kelso a right of petary (cutting peat for fuel) and pasturage for cattle, at certain seasons of the year, at Beirhope. It seems to have conferred a surname on a family, as shown by the following example. In 1606, Robert Beirhope was accused of going to Littledene (near Maxton), belonging to Sir John Ker of Hirsel, and breaking up the byre doors and stealing 16 cows and oxen, with 6 horses and mares, and other goods. He was acquitted. (Jeffrey)
In 1545, Hertford's army of 4,000 left a punitive trail of destruction throughout the Borders. The Kale valley did not escape his attention and his account of his expeditions include lists of "fortresses, abbeys, frerehouses, market-townes, villages, towers, and places", burnt, razed, and cast down between the 8th and 23rd September.
On the Ryver of Kale in East Tividale
Over Hownam, Neyther Hownam, Hownham Kyrke, New Gateshaughe, the tower of Gateshaughe, Over Grobet, Neyther Grobet, Grobet-mylne, Wyde-open, Crewked-shawes, Prymside, Mylne Rigge, Marbottell, Otter-burne, Cessforthe, Over Whitton, Neyther Whitton, Hatherlands, Cesforth burne, Cesforth Mains, Mowe House, the Cowe Bogge, Lynton, Caverton, Sharpe-frige, Frogden, Pringle stede, Mayne-house, Eck-forde, Mosse-house, Wester Barnes, Grahamslaw, Sunlaws, Heiton on the Hill, Newe Hawe, Maisondieu, the Brig end, St. Thomas Chapell, Maxwellheugh, East-Woddon, West Wodden, Howden. Sum 43.
The town of Hownam Kirk is situated near to the church between the Cayle and the Capehopeburn, consisting of a few modern houses. The old town of Hownam stood a little way east from the Irk town on the same bank of the river. On the banks of the Capehope there are the ruins of a considerable number of houses, with the fountains of a mill. (Jeffrey)
At an early period, the farms in this parish were much more sub-divided, and occupied by a number of small tenants, who extended the cultivation on the hill grounds to some hundreds of acres more than is now even

occasionally in tillage. The appearances of cultivation can still be traced on many of the hills, where no grain can now be produced; and regular ridges and furrows are in many places very distinct. (2nd Stat. Acc.)
Husbandry
The principal circumstance for which this district is remarkable is the Kale-water breed of sheep, so called from a small stream running through the middle of the parish. The sheep are of moderate size and produce excellent wool. Their number usually amounts to 12,000. The quantity of grain produced, is very inconsiderable. Several of the farms in the higher part of the parish have scarcely been ploughed in the memory of man. (1st Stat.. Acc .)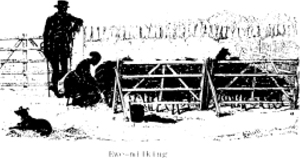 The common breed of cattle are the short-horned, to the improvement of which great attention has been paid. The numbers of cows kept in the parish is 65; young cattle 110. The best sorts of the Cheviot breed of sheep, which are found to thrive remarkably in every part of the parish, constitute the stock on the hill pasture. (2nd Stat. Acc.)
Sheep Management
Salving - a practice which has been found by experience to keep their flocks warm and free from vermin during winter, and to produce wool of a finer pile as well as in greater abundance. The general rule, formerly, was to use equal quantities of tar and butter; and little regard was paid to the quality of either. Care is now taken to procure good tar; and a much greater proportion of butter is added, at least a third part, commonly more. The butter is slowly melted and poured upon the tar, and they are constantly stirred until they become cool enough for use. The wool is distinctly parted from the head to the tail of the animal, and this mixture is rubbed carefully with the finger on the skin at the bottom of each row. A man will, at an average, salve twenty in a day.
Clipping Time
The sheep on the farm are plunged, as often as is necessary, over head and ears into a deep pool, and left to swim out of it. This is intended to free their fleeces from the mud and sand which adheres to the salve; and they are clipped and shorn as soon as they are sufficiently dry. An expert shearer will clip fifty fleeces in a day. (Douglas)
Sheep Folds, Stells and Dykes

Temporary sheep folds are still enclosed by sods, placed above on another uprightly, to the height of four or five feet. (Douglas) The remains of at least five of these turf sheep stells are to be seen near the Centre, two of them on the dry knoll about 100 metres due south of the building. Such circles are often mistaken for the remains of early settlements. Sod or fail dykes were in common use as field boundaries until they were superseded by dykes of dry-stone construction. One of the last dry-stone sheep-stells to be built in the district lies about 200 metres south west of Pennymuir, constructed in 1948. Dykes built of alternate layers of stone and turf were also fairly common but were much less durable than those built entirely of stone. A dry-stone dyke contains about one tonne of stone to each metre of wall.
Cultivations,etc.
The common scythes are employed in mowing hay, but corns are cut with the sickle. Both are put upon the cart with a common two-pronged fork. A fork with three or more stout and long prongs, and a handle three feet long, fills dung into the cart, and spreads it on the field. Lime and marl are spread with a shovel. Stones are loosened, broken, and removed from the earth by picks, large hammers, and levers both of wood and iron. Even gunpowder is sometimes made up implement of husbandry. Docks are taken up with a spade contrived for the purpose. Other weeds, especially thistles, are cut with a weed-hook. Hedges are pruned and dressed by bills and shears.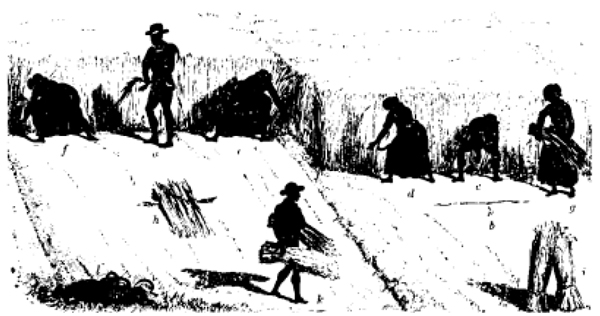 Milk vessels are sometimes scooped out of a piece of solid wood, and nicely turned and smoothed; but more commonly are made of oaken staves: earthen cans are also used. Churns are of various forms; each mistress or dairy-maid preferring that kind, which she thinks, requires least labour, and is most easily cleaned.
Cheese presses are constructed on the principles both of the lever and the screw; the last seems to prevail most, especially in pasture farms, where cheese is chiefly made. (Douglas)
The Farmhouse
Few things are of greater importance in agriculture, than the commodious and comfortable accommodation of farmers, and happily, it is here much regarded. (Douglas) In place of the former old clay cottages .... these are constructed of stone and lime, and covered with roof-slate. The hewn work is of a red freestone, from a quarry belonging to the Duke of Roxburghe, in the parish of Eckford. (2nd Stat. Acc.)
Cottages
Those erected for shepherds are miserable temporary hovels. Their walls are alternate rows of stones and sods, and their roofs are of coarse and slender timber covered with turf and rushes. A hole in the middle of the roof, surrounded at the top, and a little way down into the house, by a wicker frame, plastered with a mixture of straw, mud, or clay, is the only chimney. A small aperture, with a single pane of glass, and sometimes altogether open, and stuffed at night with old clothes, serves for a window. (Douglas)
Occupations
At the census of 1841, the following occupations were listed in the village of Hownam itself :
There are two persons of independent means and one pauper.
Population
The population appears to have been anciently much greater than it is at present. Whole families, beside single individuals, have, within these few years, emigrated to America. The farmers, paying more attention to their sheep walks than formerly, hardly allow a single house to stand on any part of their farm, excepting such as are necessary for their shepherd's accommodation; and landlords themselves do not encourage the erection of more cottages than are absolutely necessary. (2nd Stat. Acc.)
The decrease of population previous to the year 1791 is attributed in the former Statistical Report to "the mode of agriculture almost universally adopted in the parish about that period, of converting the arable into pasture land". The decrease since that period, may be chiefly ascribed to non-residence, emigration, razing of cottar houses, the resorting of the poor and of operatives to towns, where they meet with more employment, and to the too general system adopted by landlords, of uniting a number of small farms into one. Such a system is, indeed, as has been elsewhere expressed, "the bane of the comfort, happiness, and independence of the lower classes". (2nd Stat. Acc.)
That households were larger in earlier times is confirmed by the following figures from the 1841 census returns : -
The air is healthy and the people long-lived. Three persons who had resided in the parish from their youth, died lately, at the advanced age of 100. (2nd Stat. Acc.)
Ambitions
When a servant saves a few pounds, he is ambitious of possessing a horse and a small tenement, that he may turn cadger (i.e. a carrier), and will undertake no work except where his horse is employed. Hence labourers are not numerous, and consist chiefly of those who have failed in other employments, or have thrown them up for want of health; which accounts, in part, for their unwillingness to work by the piece, and their preference of days wages. There are, however, a few clever fellows who can handle a pick and shovel with great dexterity. (Douglas)

Wages and Prices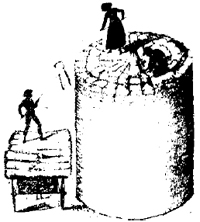 Cottagers are taken bound to weed turnips, and make hay 12 days, at 3d per day, with their maintenance, and to reap in harvest without receiving anything but their board; for which they possess a house and yard, have one or two dargs of turf or peat, which their masters bring home, and give them as much ground as the ashes will cover for sowing barley. They have likewise two lippies of lint-seed sown, and half a firlot of potatoes planted. Their crop, when it is good, constitutes a great part of their living throughout the year; and, in that case, their houses cost them little. Hinds receive 8 bolls of oats, 2 bolls of barley, 1 boll of pease, a cow's grass, and £1 5s for sheep, as the wages of their own labour; and are bound to the same servitude with a cottager for their houses, lint, potatoes, etc. (1st Stat. Acc. Oxnam Parish)
(Darg - a day's work. Lippies, bolls and firlots are dry measures. Lint is the linseed plant from which flax was made).
The general rate of a day-labourer's wage, without victuals, is, for men during summer, 1s 8d per day, and for women, 1s; and during winter for men from 1s 4d to 1s 6d, and for women 10d, sometimes less. A tailor has 1s 6d per day and his victuals. Masons and carpenters have each from 2s 2d to 2s 6d in summer, and about 2s in winter, without victuals.
Coal carried and delivered here costs, per cwt., about 8½d. A pound weight of the best butter costs from 7d to 8d. Chickens cost from 7d to 9d each. The average price of eggs is 4s 2d per hundred. (2nd Stat. Acc.)
Diet
Oatmeal porridge, used with milk, or with beer made from treacle, is the ordinary breakfast of the working classes, and of the younger branches of every family. Barley and pease-meal bannocks and potatoes are principal articles of food, which, with the produce of a small garden, and occasionally a little bacon or salted mutton, occupy a chief place both at dinner and supper. Coffee and tea are daily becoming more general among all classes; and few of our tenantry now breakfast without one or other of them, or dine without animal food. (2nd Stat. Acc.)
Cottagers and shepherds .... live chiefly on bread, oatmeal, potatoes, milk, cheese, eggs, herrings, and salted meat. Weaten bread, ale, and whisky are accounted dainties, and only presented on great occasions; such as baptisms and marriages. (Douglas)
Education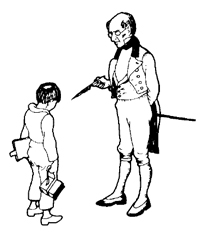 The schoolmaster's salary is £5 11s 1½d, and he has £4 3s 4d, interest of money mortified by Lady Yester for teaching poor children; £4 15s for collecting poor's rates; and, being clerk to the session and heritors, 4d for every registration and extract, and 1s 6d for each proclamation. The school is in general well attended. The wages are, 1s per quarter for English, 1s 6d for English and writing, and 2s 6d for arithmetic. The higher branches are taught by agreement. The above is the minimum legal salary of Scotland, and the school wages are still the original appointment. As the value of money is now so much sunk, and as the wages of all the other classes are greatly increased, an augmentation of the schoolmaster's salaries and school fees, seems to be indispensably necessary. (1st Stat. Acc. Oxnam Parish)
The Church
The walls of the church were repaired about forty years ago; but the building is still very bad, and worse than any place of worship in the neighbourhood. (1st Stat. Acc.)
It is a very ancient building, and was originally in the form of a passion-cross, of great extent, and from end to end a burying-place (i.e. bodies were interred beneath the earth floor). It affords accommodation for 225 persons, allowing 1½ feet to each; and the sittings are all free.
Fairs
Pennymuir Border Tryst is held twice every year on the Oxnam side of the south-west boundary of the parish, and close upon the old Roman road which divides the two parishes of Hounam and Oxnam. It takes place on the 31st day of July and 15th day of October, and is one of the principal marts for the sale of lambs and draft ewes in the south of Scotland. (The site of the Pennymuir Fair is the unplanted area immediately west of Pennymuir Inn). The customs of this fair belong to the Duke of Roxburghe. Capehope Fair, which in former times was a market of considerable resort, has for a number of years ceased to be held. (2nd Stat. Acc. )
Miscellaneous
If any of our people do fall into bad habits it is chiefly from the cheapness of whisky. There are two inns or public-houses in Hounam village, besides one on the Oxnam side of Pennymuir, on the very boundaries of this parish. One half of the number in Hounam would be quite sufficient for the parish.
The people are generally intelligent, moral, and exemplary in their attendance on religious ordinances. The writer is sorry, however, to say, that poaching in game prevails to a considerable extent; but chiefly by persons not resident in the parish. Daring bands of these modern freebooters from the English borders have lately traversed the hills, making great havoc among the game. The waters have recently been fished to great excess, and not by the most legitimate means of capture. The Kale and all its tributary streams are poached without interruption during the season of spawning. Smuggling in whisky holds out strong temptations to illicit traffic, and lawless gangs of smugglers from the English borders have long infested this neighbourhood. (2nd Stat. Acc. )
The two pages shown below are extracts from the Valuation Book of the County of Roxburgh, 1788, parishes of Hownam and Oxnam.
Sources of Information
The Statistical Account of Scotland, 1791 - 1799; Sinclair, Sir J. (An account of the Scottish parishes in 21 volumes. Appendices should be checked for additional information). (1st Stat. Acc.)
The New Statistical Account of Scotland, 1845. (As above, but published in county volumes) (2nd Stat. Acc.)
General view of the Agriculture of the County of Roxburgh, 1794; Ure, Rev. D.
General view of the Agriculture in the County of Roxburgh, 1798; Douglas, Rev. R. (Douglas)
The History and Antiquities of Roxburghshire and adjacent districts, 1894; Jeffrey, A. (Jeffrey)
Scottish Farming, Past and Present, 1959; Symon, J
Royal Commission of Ancient Monuments; The County of Roxburgh, 1956; H.M.S.O.
A History of the Border Counties, Roxburgh, Selkirk and Peebles, 1899; Douglas, Sir J.
The Seasons, about 1730; Thomson, J. (A long poem, with many glimpses of rural life in the 18th Century. Thomson spent his boyhood at Southdean Manse, about 14 kilometres to the south west of Towford).
Analysis of the Valuation Books of the County of Roxburgh, 1788. (This volume is a mine of information on farm names and landowners in the various parishes, covering the period from about 1643 to about 1788).
The Book of the Farm, 1849; Stephens, H.
Census Returns, Register House, Edinburgh.