Chapter 11 - Outdoor Pursuits
The immediate vicinity of the Towford Centre cannot be described as "outstanding" in terms of scope for a wide range of Outdoor Pursuits. Since the area does not contain (a) land over 1000 metres (b) high cliffs (c) rapid rivers (d) large expanses of open water, or (e) mature forests, opportunities are obviously limited for any more than fairly basic activity in most of the more common Pursuits.
Accepting these limitations, however, there is no doubt that the Centre has much to offer as a base for a variety of pursuits where basic training, rather than advanced participation, is the prime objective. Of the possible Pursuits, walking and lightweight camping must take pride of place in the Towford area. The possibilities for pleasant and interesting hill walks are virtually unlimited and the Cheviot Hills are designated as suitable terrain for Duke of Edinburgh's Award "Gold" Standard expeditions. These and other Pursuits are dealt with more fully below.
In considering Pursuits possibilities, it is vitally important to give due regard to the questions of access and conduct - particularly with regard to the use of farmland. Safety considerations also must obviously be of prime concern to party leaders. Information on access, conduct and safety is readily available to visitors to the Centre in the form of (a) notes supplied to leaders (b) booklets, maps and slide programmes kept in the Centre and (c) the Country Code and various other publications recommended in this book.
The following notes are intended only as a brief summary of possibilities in certain pursuits; further details or possible guidance, can be supplied on request.
Hill Walking
The area of the Cheviot Hills is outstanding for walking and expeditions to suit every category of walker can easily be devised. Apart from difficulties caused by peat hags on some of the higher ground, occasional steep grassy slopes and an increasing area of coniferous planting, walking is relatively easy and certainly pleasant. There are numerous hill tracks and old roads crossing these hills which in many cases provide historical interest as well as easy access. A glance at the O.S. map, for example, indicates the existence of Dere Street, a Roman road, which passes very close to the Centre and provides a link with the most northerly section of the Pennine Way. On the other hand, reasonably challenging expeditions, in terms of physical effort and navigational demands, can easily be provided.
Although it is not possible here to cover the whole question of safety in the hills, attention is drawn to two vital considerations for all party leaders.
Always consider the weather - forecasts, season of the year, duration of expedition, altitude, etc. The effects of altitude on temperature and wind-speed and the implications of exposed plateaus in the Cheviots are often grossly underestimated by walkers who fail to realise the possible severity of winter conditions above 500 metres.
Always leave details of your intended route - however modest, with a responsible person who will take appropriate action in the case of emergency.
On the question of access, visitors to the area are reminded of the need for extra care during the Spring lambing period, mid-April to mid-May, when disturbance of sheep can have very serious implications. The Centre has special restrictions on access at this peak lambing time but walkers should be particularly careful to avoid disturbance to stock for several weeks before and after the period of closure, confining all their activities to grounds or rights-of-way, e.g. Dere Street, unless specific access permission has been obtained.
Some Specific Routes
The following suggestions for specific walks of varying length may serve to illustrate the scope of the Towford area for really worthwhile outings which combine the benefits and challenges of hill walking with the added interest of environmental studies.
Route 1: Towford - Woden Law - Towford
Length - 4 kilometres
Average time, including stops - 1 hour
Navigation - very easy
Visitors to Towford will normally be well rewarded by climbing Woden Law (423 metres) which tends to dominate the immediate surroundings of the Centre. The walk is a simple one. By following Dere Street to the building on the skyline, before striking off for the summit, a steady but not too strenuous incline is soon overcome. On this climb it is worth remembering the Roman legions and primitive transport which had to negotiate the same gradients almost two thousands years ago. The views of the Cheviots, the Kale Valley, the Eildon Hills, Ruberslaw and other landmarks, make the effort more than worthwhile. On the final part of the ascent, the Roman and native British ramparts and ditches are prominent features, while on the flat top of the hill, the enclosures and hut circles provide an interesting study.
Route 2 : Towford - Whitton Loch (Via Dere Street)
Length - 7 kilometres
Average time, including stops - 2 hours
(double, if transport is not available for return journey)
Navigation - easy
This must surely rank as one of the most pleasant and rewarding hill walks in the Borders. The stretch of Dere Street involved is not only very well preserved but also includes a great deal of historical interest and affords magnificent views in all directions.
Some Points of Interest en Route
Route 3 : Towford to Hownam via Lamb Hill and 'The Street'
Length - 16 kilometres
Average time, including stops - 4½ hours
Navigation - This is hill walking into fairly wild country - map and compass
plus full hill walking equipment required.
Some Points of Interest en Route
Orienteering
Towford is a good centre for introductory orienteering practice and even for reasonably advanced training and competition.
The immediate surroundings of the Centre are open but with an interesting variety of features. These are ideal for basic map reading and compass work. The O.S. 1:25,000 or 1:10,000 maps, corrected as appropriate, are extremely useful in this context. Because of sensitive environmental factors, such as livestock, walls, fences and gates and because of the experimental conservation project in the Centre grounds, leaders are requested not to include unrestricted route choice or racing activities in this area.
Two wooded areas within a very reasonable travelling distance offer opportunities for proper orienteering at various levels with specially prepared orienteering maps and permanent control points. Access arrangements have been negotiated in respect of properly supervised parties at (these were arranged in the 1970's and have yet to be checked by the Trust for the late 1990's - please contact the appropriate owners prior to using the sites):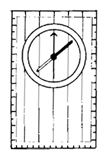 Leithope Forest, in the upper Kale Valley, owned by the Forestry Commission, 4½ kms, by road from Towford. O. S. 1 : 50,000 sheet 80, 730085.
Birkenside Woods, near Mossburnford, owned by Lothian Estates, 12 kms. by road from Towford. O.S. 1 : 50,000 Sheet 80, 679 165.
Rock Climbing
No suitable terrain, even for "scrambling", exists within a 15 kilometre radius of the Centre. For residents with transport, the following sites can be recommended.
Ruberslaw (1:50,000 Sheet 80 581155) Basic training, with 10 metre pitches.
Henhole, near Cheviot (1:50,000 Sheet 74 886203. All grades to 35 metre pitches). See "Rock Climbing Guide to Northumberland" for further information.
Climbing Tower, Jedburgh Grammar School Games Complex. A four-sided monolith with a comprehensive selection of features. Contact the school for availability details - telephone 01835-862566.
Canoeing
Although the immediate vicinity of Towford is very limited with regard to canoeing facilities, the Centre is fairly well located as a residential base for canoeing groups willing to travel some 12 to 30 kilometres to suitable inland water. Within this range there is very good river canoeing, with stretches of Grade I - III on the Rivers Teviot and Tweed. A very useful area for introductory practice is Whitton Loch, 11 kilometres by road to the north of Towford. (O.S. 1:50,000 Sheet 80, 745198). Local permission should be saught prior to using stretches of Rivers and Lochs. The Kale Water itself is normally too small a stream for anything other than very basic practice in some of its deeper pools but flood conditions occasionally provide interesting canoeing. As explained elsewhere, the pool in the Centre grounds has been constructed for ecological purposes and must not be used for bathing or boating under any circumstances.

A journey to the Kelso area can be very rewarding, particularly for canoeists seeking "white water" activity. Access can normally be gained at Teviot Bridge, a very useful minor rapid area on the Teviot at Kelso and good river trips are possible with few access problems. The Grade III rapids at Makerstoun, 5 kilometres upstream from Kelso, provide the most exciting canoeing on the Tweed. The Makerstoun rapids are suitable only for the experienced canoeist.
Sailing
Whitton Loch is the only possible site within reasonable travelling distance and is only suitable for small dinghies.
Swimming
Several pools in the Kale Water are suitable for bathing; one such pool being within the Centre grounds, upstream from the dam. This dam controls the level of the water in the ecological pool and must not be altered in any way.
Camping Expeditions

The area of the Cheviot Hills is eminently suitable for lightweight camping expeditions, including Duke of Edinburgh's Award Scheme projects to "Gold" standard. The area can provide an adequate test of stamina and navigational abilities at different levels while possessing various important 'built-in' safety factors, e.g. easy access routes for checking purposes.
Overnight camping sites should not present problems as long as individual landowners/farmers are approached at the planning stage.
The Borders Regional Expedition Assessment Panel for the Duke of Edinburgh Award Scheme has been formed to assist participants in the scheme particularly in respect of relevant information about the Borders area and actual assessment of expeditions. At the time of writing (1979) the Panel is involved in the production of a booklet of "Expeditions in the Borders". Further information from the Panel Secretary - Community Education Services, Borders Regional Council, Albert Place, Galashiels.
Pony Trekking
In the past the Towford Centre was used, most successfully, as a base for trekking. Commercial interests have however largely taken over this aspect of outdoor pursuits in the area and are very well organised. The Cheviot area is very suitable for pony-trekking, generally speaking largely because of safe and pleasant hill tracks and the excellent views of the surrounding country.
Several commercial trekking centres operate at least partly in the Cheviots and visitors to Towford may wish to include such activities in their programme. The Tourist information office in Jedburgh (Telephone 01835-863435 or 01835-863688) should be able to provide up-todate information on commercial operators.
Skiing
In suitable snow conditions - much less frequent in recent years than previously - enjoyable skiing can be had around Towford and in the Cheviot Hills.
The small dry valley behind the Centre provides a good ski run even after moderate snowfall.
Group skiing off recognised rights-of-way will obviously require the agreement of appropriate farmers/landowners.
At the Jedburgh Sports Complex (Telephone 01835-862566) there is a 40 metre artificial ski slope which is available to approved groups.
Sources of Information
Hill Walking
"The Southern Uplands" ; Scottish Mountaineering Club, 1972.
"Scottish Hill Tracks, Old Highways and Drove Roads, Southern Scotland" ; D. G. Moir, 1975.
"Ramblers' Cheviot" ; Rambler's Association, 1969.
"Safety on Mountains" ; British Mountaineering Council, 1975.
"Pennine Way Companion" ; A. Wainwright, 1968.
"A Guide to the Pennine Way" ; C. J. Wright, 1975.
"A Walker on the Pennine Way: a visual experience. Section 8 - Bellingham to Kirk Yetholm" ; C. Walker, 1976.
Orienteering
"Orienteering for the Young"; Peter Palmer, British Orienteering Federation, 1976.
Rock Climbing
"Rock Climbing Guide to Northumberland" ; Northumberland Climbing Club, 1971.
Canoeing
"Guide to the Waterways of the British Isles" ; British Canoe Union, 1966.
Duke of Edinburgh Award Scheme Expeditions
"Expedition Guide" (booklet) ; Duke of Edinburgh Award Office, 1974.
"Expedition Programmes" (pamphlet) ; Duke of Edinburgh Award Office, 1973.
"Expeditions in the Borders Region" ; Borders Regional Expedition Assessment Panel (in preparation).
Camping
"Camping" ; D.E.S. Pamphlet No. 58; H. M. S. O., 1971.
Useful Contacts
The Border Search and Rescue Unit (emergencies) -
Police Station, Kelso (Not continuously manned) 01573-223434
Police Station, Jedburgh (Not continuously manned) 01835-862264
Police Station, Hawick (Principal station) 01450-375051
Duke of Edinburgh Award Scheme:
69 Dublin Street, Edinburgh, EH3 6NS, 0131-556 9097
Local Clubs include :
Scottish Borders Hill Walking Club
Borders Climbing Group
Roxburgh Canoe Club
Roxburgh Reivers Orienteering Club
Borders Ski Club
Borders Exploration Group